Widely visible, Darmstadt's landmark, the Wedding Tower, rises on the Mathildenhöhe. The name 'Wedding Tower' refers to the wedding between the Grand Duke Ernst Ludwig and Princess Eleonore zu Solms-Hohensolms-Lich in the year 1905. After the announcement of the engagement, the Grand Duke consulted the Viennese architect Josef Maria Olbrich. Both of them were intrigued by the idea of creating a widely visible monument in commemoration of this event. The 48.5-meter-high tower designed by Olbrich was erected in the years 1907 to 1908 by Darmstadt's urban building department.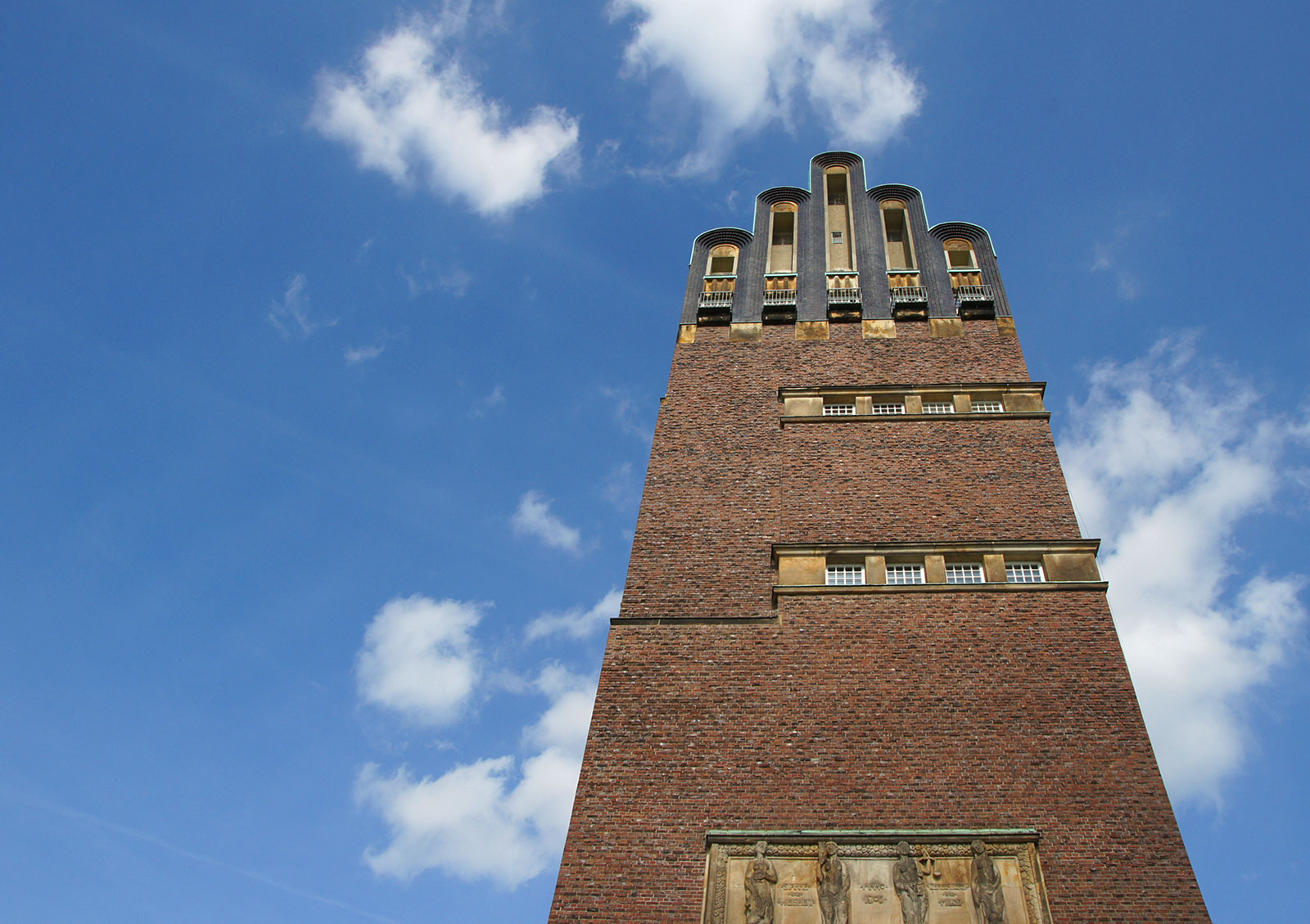 The facade
The tower consists of a multi-stage pedestal, a tower body built with dark-red clinker brick, stylish bands of windows carrying around the corners and a five-spired crown. The unconventionally shaped crown has earned the tower the name 'Five-Finger-Tower'. The western facade adjoining the plane tree grove is the visible face of the tower. The relief above the entrance porch bears the inscription "Erected in Commemoration of the Wedding between J.J.K.K.H.H. the Grand Duke Ernst Ludwig and the Grand Duchess Eleonore by the City of Darmstadt in the year 1907/08". Four semi-nude female figures symbolize the virtues of the Grand-Ducal couple: Strength, Wisdom, Justice and Mercy. The northern side of the building is dominated by the widely visible golden tower clock. The clock face bearing the numerals and the hands is supported by three ornamental round arches. They frame the three virtues Faith, Love and Hope. On the southern side a large sun dial is embedded in the wall above the sixth pair of windows. Sun beams touch the numerals and the dial is surrounded by the twelve zodiac signs depicted against the background of a blue glass mosaic frieze with golden stars.
The interior rooms
The tower is divided into seven floors of different heights and functions. It was only after the exhibition in 1908 that these rooms were completed step by step. On 15th May 1909, construction works in the Wedding Room and the Grand Duke's Room were finished.
The entrance hall
The walls in the entrance hall on the ground floor are decorated with two large mosaics. One of them represents an allegory of the Grand Duke's reign set against a blue sky. With a tree crown in the background, a winged female creature is standing on a pedestal which is bearing the inscription "Ernst Ludwig Eleonore". The second wall mosaic depicts a young pair of lovers embracing and kissing each other against a blue starry background. The naked youthful bodies seem to be hovering above a rolling band of clouds. Huge, white-golden feathered wings are growing out of the lovers' shoulders and forming a flaming Omega.
The Wedding Room
The walls in the "Grand Duchess' Room" on the fifth floor, the so-called "Wedding Room", are decorated with an elm wood panelling by the furniture maker H. J. Glückert, while Philipp Otto Schäfer created the wall paintings. They depict a princely wedding in neo-Renaissance style. The room is 4.40 meters high and has a flat gilded stucco ceiling. The entire ambiance was donated by the Grand Duke's squire August Freiherr von Oetinger. To the panorama of the wedding room
The Prince's Room
The "Grand Duke's Room" on the fourth floor is about seven meters high and dominated  by a barrel vault. It is painted with lizards winding between snail shells at a regular rhythm. In the keystone of the arch the Grand Duke's initials "EL" are imprinted in a golden crown. A nude female rider and a young warrior are riding on fabulous creatures. They are pouring out cornucopias over a snail house. These allegories of the victory over time were created by the painter Fritz Hegenbart. Carpenters working for the furniture maker Heinrich Julius Glückert created the inlays. Dr. Robert Esser donated the entire interior decoration at the time. To the panorama of the Prince's Room
The viewing platform