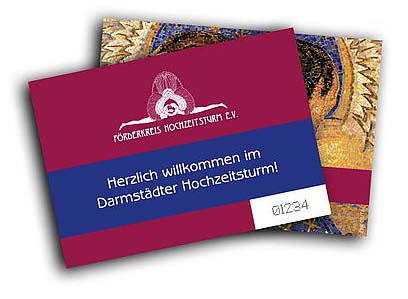 March – October
Tuesday, Wednesday, Thursday, 10 a.m – 7 p.m.
Friday, Saturday, Sunday 10 a.m. – 8 p.m.
Closed on Monday.
November – February
Friday – Sunday, 11 a.m. – 5 p.m.
Open on all public holidays.
Closed on 24th Dec and 31st Dec.
Opening hours on wedding ceremony days
During wedding ceremonies a visit to the tower is not possible. Please, check the booked dates in the wedding calendar of the Darmstadt registry office and the information given on site. Wedding ceremonies take time. Therefore, we kindly ask you to call us for the exact opening hours on wedding ceremony days.
Admission fees
Adults: 3,– Euro
Reduced fee: 2,– Euro
Groups (10 people or more): 2,– Euro per person
Children under 12: free
We kindly ask for prior announcement of groups and school classes
in the Wedding Tower shop: Phone 0 61 51 – 701 90 87